Chairs for Women in Science & Engineering (CWSE)
The network of Chairs for Women in Science and Engineering, are each, accomplished female scientists in their fields.  Collectively, they develop, implement and communicate strategies to raise the level of participation and retention in STEM disciplines, of underrepresented persons across intersectional dimensions (e.g., age, sexual orientation, Indigenous status).
CWSE is a Natural Sciences and Engineering Research Council of Canada (NSERC) initiative, launched in 1989 to respond to a need for greater diversity and inclusion within science, technology, engineering and mathematics (STEM) fields. The competitive CWSE program is regional—with one Chair for each of the Atlantic, Quebec, Ontario, Prairies and British Columbia/Yukon regions.
Please refer to WWEST's Annual Report for more information
The overall goal of the British Columbia and Yukon program is to support intersectionality and diversity, and to provide equitable and inclusive learning and working environments for underrepresented persons in science and engineering. The Chair program is grounded within the themes of Inclusion, Collaboration and Innovation.
Inclusion: Excellence in innovation and discovery depends upon diverse perspectives and equitable opportunities and approaches. In this theme, a core commitment of the Chair is fostering paths to access STEM experiences, education and careers.
Collaboration: This theme recognizes the need for cultivating, co-ordinating and engaging academic, industry and professional associations partners. Collaboratively, the Chair will build support networks to strengthen connectedness that contributes to retention of underrepresented persons within and between STEM academic degrees and industry.
Innovation: Within this theme, evidence-informed knowledge will be applied to science translation activities and professional workshops. The program will increase knowledge of the positive social, cultural and personal experiences that contribute to the choices of girls, women and underrepresented persons to pursue and remain in STEM fields.
OUR VISION is to increase diversity, and grow a collaborative community through application of positive factors and forces, that excite women and underrepresented persons to pursue, and remain in, STEM careers.
Dr. Jennifer Jakobi

NSERC Chair for Women in Science & Engineering (BC/Yukon)
Jennifer (Jenn) Jakobi, is a Professor in Health and Exercise Sciences at the University of British Columbia Okanagan. She is committed to generating a collaborative network to support the growth and retention of girls/women and underrepresented persons in Science, Technology, Engineering and Mathematics (STEM) fields.
Jenn will undertake this by knowledge discovery of the positive factors that contribute to pursuing, remaining and thriving in STEM arenas, and apply this to strategies that are grounded in three themes of Inclusion, Collaboration and Innovation to create meaningful impact for girls/women and underrepresented persons across British Columbia and Yukon.
More about Dr. Jennifer Jakobi
She was the Associate Chair Westcoast Women in Engineering Science and Technology (WWEST; 2018-2020), and founding director of the integrative STEM Team Advancing networks of Diversity (iSTAND) Program. Through these programs she worked towards increasing diversity across STEM fields through engaging, mentoring and supporting youth and women in STEM activities that facilitate self-awareness, and professional understanding to empower organizational change through independent contributions. Dr. Jakobi is a Killam Laureate, has ~100 publications and has acquired ~3 million dollars in funding to support her research in exercise neuroscience, where she has had the privilege of mentoring ~80 trainees over the last 18years of academia. In particular, she applies various surface and indwelling electromyography and imaging techniques to understand sex-specific age-related decline that contributes to greater loss of functional abilities in women compared to men with increasing age. Her research activities have been funded through the 3 tri-council agencies, as well as provincial and industry partners. Dr. Jakobi has been a member of the UBCO community since 2008 and integral in the growth and development of the undergraduate and graduate programs in the School of Health and Exercise Sciences. She has served as undergraduate and graduate coordinators within the School, as well as Associate Dean for the Faculty, and Dean Pro Tem for the College of Graduate Studies. She was named as a change-builder in an elite group of Women Leaders (2017) by the Canadian Society for Exercise Physiology, and was recently recognized with a Volunteer Appreciation Award (2019) by said organization.
Rebecca McCullough
Project Manager, WWEST/iSTAND
Rebecca McCullough holds a Masters Degree in Educational Leadership, as well as two undergraduate degrees in Education and Kinesiology. As the Project Manager for WWEST and iSTAND (integrative STEM Team Advancing Networks of Diversity) , she is committed to making meaningful connections between STEM and underrepresented populations throughout BC and the Yukon.
Rebecca works on bridging BC education curriculum and STEM outreach/mentorship activities, and advocating for equity, diversity and inclusion through WWEST and iSTAND events and opportunities.
Rebecca participates in learning, travel, and fitness related challenges, to stay grounded.
Contact: rebecca.mccullough@ubc.ca 
Eli Haynes
STEM Outreach Coordinator
Eli graduated with a Masters Degree from UBC Okanagan in 2022. He is passionate about providing opportunities for people from underrepresented groups to engage with, and learn about the benefits of, STEM. The activities he instructs involve demonstrating the relevance of STEM knowledge in the everyday lives of outreach participants.
Aside from STEM outreach, Eli also coaches youth and young adult football teams.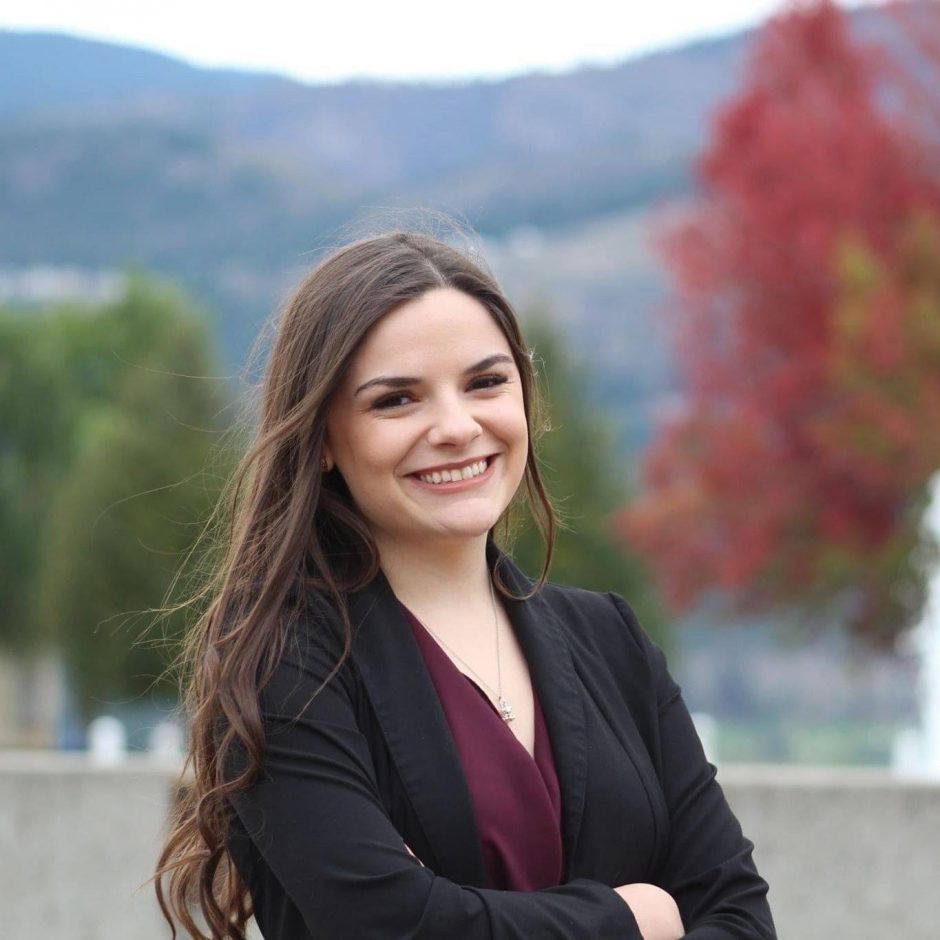 Vanessa Bobbitt-Strachan
WWEST STEM Curricular Support Program Coordinator/Educator
Vanessa has a dual degree in Biology and Psychology, as well as a diploma in early childhood education. She is very excited to join WWEST this year and is looking forward to sharing her passion for STEM.
Contact: wwest.ok@ubc.ca
Brianna Andrews
Communications Coordinator/WWEST STEM Curriculum Supports Program Educator
Brianna has an undergraduate Kinesiology Honours degree, and experience in neuromuscular physiology research. She is eager to engage and educate underrepresented populations through STEM based activities, and increase the awareness and understanding of STEM through communications.
Contact: wwest.ok@ubc.ca
Arrthy Thayaparan
Best of the WWEST Podcast Producer
Arrthy has a Masters of Journalism and a Bachelors of Science from the University of British Columbia. As a journalist, she is passionate about telling stories with underrepresented communities and exploring the many avenues of STEM. If you are interested in being a guest on an upcoming podcast, please send Arrthy an email.
Contact: arrthyt@gmail.com
Ashishvangh Contractor
Best of the WWEST Podcast Co-Producer and Host
Ashishvangh has a masters in Journalism and a bachelors degree in Interdisciplinary Performance from the University of British Columbia. Through her role as a producer and host of the podcast, Ashishvangh aims to connect with women and gender-diverse trailblazers in STEM, hear about their lives, and careers, as well as open the floor to conversations surrounding the challenges of underrepresentation in the industry. 
Contact: ashishvanghvc@gmail.com 
Maxine van Zyl
Communications and Resource Design Assistant, iSTAND
Maxine is completing her undergraduate degree in Psychology at UBC Okanagan. She is dedicated to sharing the experiences of underrepresented persons and growing conversations around inclusion and diversity in STEM, through podcasts and social media. Maxine participates in hiking and photography to enjoy the beautiful Okanagan valley.
iSTAND
Integrative STEM Team Advancing Networks of Diversity
Under the direction of Dr. Jennifer Jakobi, the integrative STEM Team Advancing Networks of Diversity (iSTAND) creates a network to recruit, support and increase underrepresented persons in Science, Technology, Engineering, and Mathematics (STEM). Various youth programs are offered in-schools and at UBCO throughout the year for youth of elementary and secondary school ages.